Related Products
FMD1616-10 PLC 16 Digital In, 16 Digital Out, 10 Analog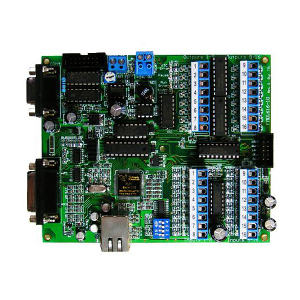 FMD1616-10 PLC 16 Digital In, 16 Digital Out, 10 Analog
FMD1616-10 PLC. 16 Digital In, 16 Digital Out, 10 Analog, RS-485,-RS-232 and Ethernet
Harmonized Code: 8537109170
COO: Singapore
FMD1616-10 PLC
The FMD1616-10 PLC packs an amazing amount of PLC hardware into a low cost, small foot-print circuit board. The flexibility of being an open board design, combined with the Ladder+BASIC programming software lets users quickly finish complex programming projects in much shorter time than traditional ladder-only PLCs or single board computers (which often require C language expertise and are not field-programmable).
With the inclusion of an onboard Ethernet port that can connect to other devices or web servers for control or data up/down-loading, 32 multi-functions digital I/Os and 10 analog I/Os (12-bit), the FMD1616-10 is a popular choice with system integrators for one-off projects as well as OEM equipment makers that employ hundreds or thousands of this great little PLC. Built into the FMD1616-10 PLC are 16 digital inputs (includes 2 high speed encoders and 4 interrupts), 16 digital outputs (supports 4 PWM channels and 2 stepper motor pulse/direction controls) and 10 analog I/Os. Digital I/O capacity can be expanded to 128 digital inputs and 128 digital outputs using Triangle Research expansion boards EXP1616R or EXP4040. Analog I/O expansion modules which connect to the FMD1616-10's RS485 port are also readily available.
Like all Super PLCs, the FMD1616-10 is designed with ready connectivity to many peripheral device types. With the built-in Ethernet port and the iTRiLOGI client/server software, the FMD1616-10 is fully accessible for machine monitoring and OEM troubleshooting & reprogramming via the Internet. Built-in RS232 and RS485 connections and support of MODBUS protocols also makes the FMD1616-10 easy to integrate into mixed-brand PLC environments and networks.
Programming of the FMD1616-10 PLC is simplified with our powerful i-TRiLOGI Ladder+BASIC software that is shipped together with the FMD1616-10 Starter Kit. The FMD1616-10 PLC incorporates a program code security feature in the interest of Automation OEMs' program protection.
Features
Digital Input: 16 (24V opto)
Digital Output (peak current): 16 (8 x 4A peak/1A cont. 8 x 1A peak/0.25A cont)
Digital I/O Expansion: Up to 128 DI, 128 DO
Analog I/O: 10
A.I. Interface 8 (0 to 5V, 12-bit)
A.O. Interface 2 (0 to 5V or 0 to 10V)
PWM (current): 4 (1A)
Stepper Motor Controller: 3 (10,000 pps)
High Speed Counter: 2 (10 KHz)
RS232 ports: 1
RS485 port (2-wire): 1
14-pin LCD port: 1
Program Flash Memory: 8K words. Expandable to 16K
Non-volatie FRAM: 11K words with FRAM-RTC Option
Dimension (L x W x H): 5.425" x 4.45" x 1.0"
Operating Temperature: -20 to +85°C
Documentation
Your Dynamic Snippet will be displayed here... This message is displayed because youy did not provide both a filter and a template to use.