Peplink MAX Dual-Cellular Routers
Bandwidth Bonding, Unbreakable VPN, High Reliability
Peplink's SD-WAN technologies give you a wide range of options. Use the link load balancing technology to prioritize VoIP traffic over lowest latency links. Guarantee the session integrity of sensitive applications such as point-of-sale or credit card transactions using Hot failover. Stream HD videos and have smooth video conferences using SpeedFusion VPN technology. Use your commodity links to offload your bulk traffic to the public Internet, while saving your critical traffic for private links. The possibilities are vast.
Modular Futureproof SD-WAN Router for Small Businesses and Branches. 900 Mbps router throughput, AC Wave 2 WiFi, 1 Embedded LTE Cellular + Flex Mini-Slot to add an optional cellular modem to give a total of 2 cellular

Everything's Included: PrimeCare includes everything you need to provide your office with unbreakable, scalable connectivity. Optional Cellular Modem Expander modules are available for purchase. CAT -6, CAT-12 or CAT-18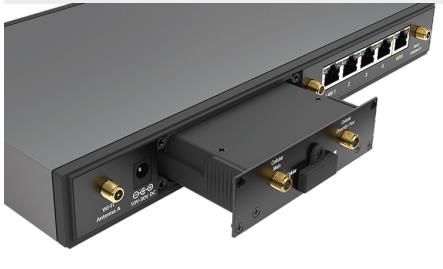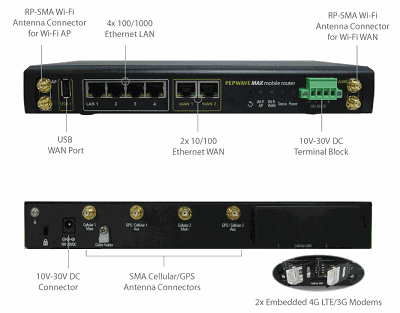 The MAX HD2 gives you blazing fast connectivity on the road with dual embedded cellular modems and SpeedFusion bandwidth bonding, plus a built-in 4-port GE switch to reduce clutter in your mobile deployments. Includes WiFi 802.11ac/a/b/g/n 1166Mbps 2x2 MIMO In addition to rugged metal enclosure, the MAX HD2 is certified on:
Shock and vibration resistance (EN 61373:1999 IEC 61373:1999)

RF Port Lightning Immunity (ITU-T K.20 (+/- 1.5 kV))

Railway Applications (EN 50155)

Electromagnetic Compatibility (EN 61000)
The MAX HD2 Mini packs big features, such as dual embedded cellular, SpeedFusion bandwidth bonding, and PoE, into a tough, compact enclosure that stands up to life on the go. The MAX HD2 mini's compact metal enclosure (1.6 x 5.0 x 5.8 inches), gives you a tough and powerful mobile connectivity solution. Note: Does not have a WiFi Radio.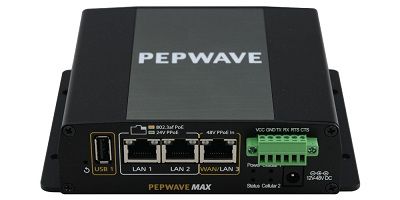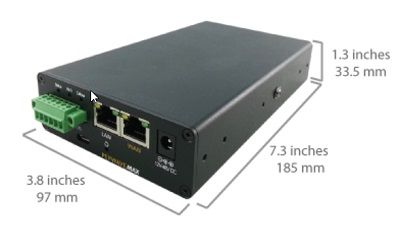 The MAX-TST-DUO has two cellular modems and two redundant SIM slots, allowing you to use up to four different cellular providers for bandwidth bonding, data overage protection or eliminating blind spots. It also has simultaneous Dual-Band 11ac Wi-Fi
to reduce Wi-Fi congestion and interference. Simultaneous dual-band Wi-Fi gives you two independent networks that also work together, maximizing the throughput that your passengers can enjoy.
The HD2 Dome provides dual-cellular Bandwidth Bonding in an IP67 enclosure with integrated antennas that has a minimal profile on the rooftop while providing maximum signal. With redundant SIM, the HD2 Dome supports two cellular radios and four SIM cards. Combine the HD2 Dome with the SIM Injector, and the number of cards increases to twelve.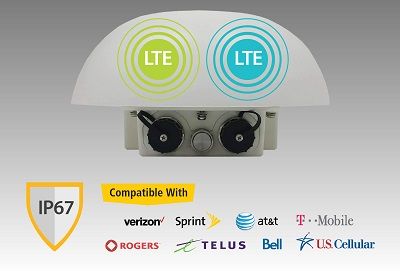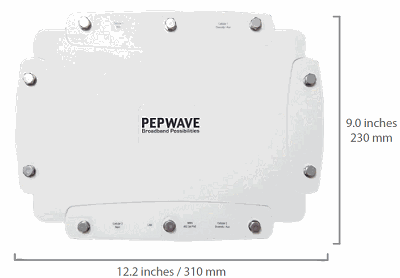 The HD2 IP67 offers dual embedded cellular modems and PoE support, all encased in a shock and vibration certified, waterproof enclosure that's more than a match for almost any environment.
The HD2 IP67 includes two built-in outdoor 4G LTE/3G modems. It allows you to use the same or different cellular providers for bandwidth bonding or eliminating blind spots. Its waterproof IP67 metal enclosure stands up to dust, vibration, and inclement weather.And, it is certified shock and vibration resistant, making it a great choice for construction, drilling, and other heavy-duty applications.

Aggregate Your Connections With SpeedFusion
Peplink's patented SpeedFusion technology powers enterprise VPNs that tap into the bandwidth of up to 13 low-cost cable, DSL, 3G/4G/LTE, and other links connected anywhere on your corporate or institutional WAN. Whether you're transferring a few documents or driving real-time POS data, video feeds, and VoIP conversations, SpeedFusion pumps all your data down a single bonded data-pipe that's budget-friendly, ultra-fast, and easily configurable to suit any networking environment. Learn more about Speedfusion here