Peplink HD4 MBX 5G - Upgradable Quad Cellular 5G Router Peplink HD4 MBX 5G - Upgradable Quad Cellular 5G Router
Peplink HD4 MBX - Upgradable Quad 5G Cellular Mobile Router
The HD4 MBX 5G is capable of combining the bandwidth of up to 4 5G cellular links into an unbreakable, high-speed SD-WAN connection. The HD4 MBX 5Gsupports up to 8 SIM cards, with room for another 8 with the optional SIM Injector. With up to 16 cellular providers to connect to, spotty coverage will simply not be a problem.
The HD4 MBX 5G is designed for industrial usage. With its fanless design, it thrives in high-particle environments that would break other fan-based routers. The HD4 MBX 5G also comes with 8x 802.3at PoE outputs to power your IP phones, cameras, and access points. Finally, the MBX has the same dimensions as the previous HD4, so it can fit seamlessly into any of your previous deployments.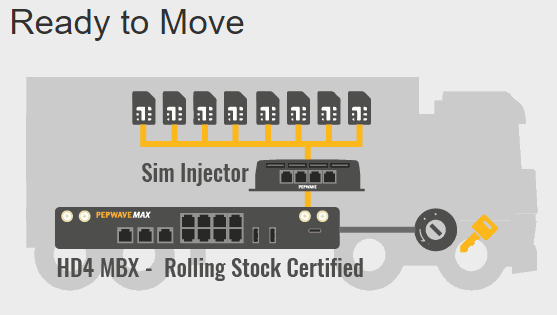 Designed for Rugged Mobile Applications
The HD4 MBX comes with multiple features to make it ideal for on-the-go deployments. Ignition Sensing gives it the ability to turn on and off depending on whether the vehicle has started. Upon vehicle shutdown, the MBX can also shut down after a user-defined interval, saving the battery from excessive drain.
The HD4 MBX supports the optional SIM Injector, which adds another 8 cellular providers to connect with. This mitigates weak spots in cellular coverage, ensuring consistent connectivity. If your deployment crosses national boundaries, you can also use the SIM Injector to load multiple SIM cards, preventing roaming charges. Finally, the HD4 MBX has rolling stock certification, meeting the strictest requirements of transportation deployments and with a -40 ° – 65 °C operating temperature range, it has you covered!
The HD4 MBX combines the bandwidth of 4x 5G links into a fast, reliable, and secure SD-WAN connection, enabling you to stream high-definition video in real-time. This can all be achieved without investing in any infrastructure if you subscribe to Peplink's Speedfusion Cloud. With SpeedFusion-enabled devices on multiple vehicles and aerial resources, you can monitor the situation from multiple perspectives without needing a line-of-sight connection.
The HD4 MBX supports 8x 802.3at PoE so that you can power and connect your cameras and IP phones with minimal cabling. It also delivers 802.11ac Wi-Fi for securely connecting your mobile devices to headquarters. The HD4 MBX supports ignition sensing, which enables the device to turn on and off based on the ignition status of the vehicle.
For additional network resilience, the SIM injector can add up to 8 SIM cards to your deployment. You can separate the router and the SIM injector by up to 150m, making switching SIM cards a breeze.