Related Products
16 Digital-In 16 Digital-Out 12 Analog PLC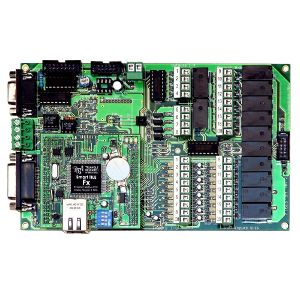 16 Digital-In 16 Digital-Out 12 Analog PLC
Fx1616-BA PLC. 16 Opto Coupled DI, 12 Relay and 4, 8A NPN Outputs, 12 Analogs, Ethernet, 1 RS-232, 2 RS-485, IR remote control, Optional Zigbee
Fx1616-BA 16 Digital In, 16 Digital Out, 12 Analog PLC
Starting with the control I/O, the Fx1616-BA has built-in 32 digital I/Os (expandable to 256) that interface directly to 24VAC or DC power, 8 analog inputs and 4 analog outputs that are 0 to 10V range. The I/O capability of this PLC includes 4 DC outputs that can also be used as PWM or AC phase control (light dimmer type) outputs, or to drive stepper motor(s). Also, there are 3 high-speed encoder inputs, 6 incoming pulse frequency counter inputs, as well as a built-in Infrared remote control interface. Unlike other product makes, these incredible features come in the standard package at no additional cost to the buyer/user.
More importantly, the Fx1616-BA's immense communication capability allows it to be used either as the master controller of a simple project such as in home automation, or as one of hundreds of "node controllers" in a complex building project. The built-in Ethernet port on the Fx1616-BA PLC hosts both a PLC web server and a Modbus/TCP server, allowing up to 6 simultaneous connections with devices such as touch panel HMIs, hardware running SCADA and PC software or other node controllers. The controller is also able to send out emails, create a report on its file system and upload it to an FTP server, or check a specified website to retrieve dynamic content. More standard interfaces on the PLC include one RS232 port and two RS485 ports, all of which support industry standard MODBUS RTU or ASCII protocols. A special set of interface pins is even provided on the PLC to allow addition of a third-party radio module known as XBEE which in turn enables this controller to interface to futuristic ZIGBEE wireless sensors and control modules.
Just as notable is Triangle Research's proven i-TRiLOGI "Ladder+BASIC" programming software which makes complex programming of the F-Series PLCs a whole lot easier than with standard ladder-logic programming! By combining the Ladder Logic program with a floating-point math-capable BASIC language (i-TRiLOGI version 7), this great controller is packaged to be ready immediately to interface to power meters, HVAC sensors, and/or talk to other controllers to carry out sophisticated control tasks in a commercial building project.
Some building automation applications for this PLC include roles as Main HVAC controller, Slave HVAC controller for VAV or CAV boxes, Lighting control and Audio-Video (AV) equipment control (learn and send 38 kHz IR remote signal).
Features
16 digital inputs (24 VAC, 24 VDC)
16 digital output (12x 5A Relay, 4x 8A NPN)
Up to 128 digital inputs, 128 outputs using expansion boards
8 analog inputs (0 - 10V, 12-bit)
4 analog outputs 2 (0 - 10V, 12-bit)
4 PWM capable outputs (4A)
2 Stepper Motor Controllers (10,000 pps)
3 High speed counters (4 KHz)
1 RS232 port
2 RS485 port (2-wire)
1 14-pin LCD port
1 ethernet port
Program flash memory 23.5K words
6K Non-volatile FRAM
Supports Ladder and BASIC programming
Modbus (ASCII,RTU,TCP) Omron C20H, ASCII host link, and user definable communication protocol support
Dimensions: 7.05" x 4.45" x 1.0"
0 to +70 C temperature operation
24 VDC
Documentation
Your Dynamic Snippet will be displayed here... This message is displayed because youy did not provide both a filter and a template to use.