Related Products
10.1" cMT 3103 HMI with Built-In Server and WiFi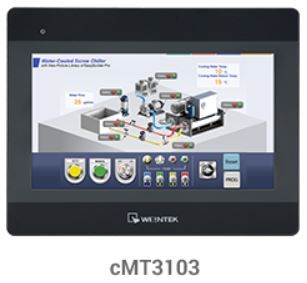 10.1" cMT 3103 HMI with Built-In Server and WiFi
Built-in Server | EasyAccess 2.0 Included | Wi-Fi
10.1" cMT 3103 HMI with Built-In Server and WiFi | EasyAccess 2.0 Included


** DISCONTINUED MAY 2021 **  See the cMT3102X
The cMT3103 offers a bright 1024 x 600 pixel 10.1" touchscreen display, fast 1GHz processor, and 1 GB of RAM for graphics-intensive projects. This model comes with built-in EasyAccess 2.0 and Wi-Fi. The cMT3103 also supports OPC UA, and MQTT, as well as a built-in HMI server enabling users to remotely monitor and access HMIs in the plant via an Apple or Android tablet or smart phone.
The cMT3103 has all of the features and capabilities available in our HMI series plus a built-in cMT-SVR. What sets this model apart from our other 10.1" HMIs is the ability to act as an integral gateway between the plant floor and the outside world. The built-in EasyAccess 2.0 option establishes a VPN connection and encrypted data between a remote PC and the cMT3103, providing additional security measures by limiting access to users with assigned passwords. With built-in Wi-Fi, the cMT3103 is one of our most versatile models. And, to provide maximum connectivity to 3rd party devices, the cMT3103 supports the most popular IIoT protocols:
MQTT: Connect as publisher or subscriber. The cMT3090 can also be setup as the broker.
OPC UA Server: Any PC with OPC UA client software can access real-time data from the HMI.
MySQL Database Integration: The cMT3090 can send sampled data or event log (alarm) information to any PC with a MySQL database server.
Modbus: EBPro includes communication drivers that allow the HMI to connect to over 300 major PLC brands, including Modbus TCP/IP. Any PC that also supports Modbus TCP/IP can use the cMT3090 as a gateway to obtain data from a connected PLC or controller.
cMT3103 Unique Features:
Barcode Scanner (thru Android camera): Allows you to use your Android smart phone or tablet's camera to scan a barcode and send it to the cMT. You must install the cMT Viewer app onto your Android device.

Database Server: Enables the cMT to connect to a MySQL database server on a PC. The cMT operator can then send a data log or alarm (event) log (*.dtl or *.evt file) to the PC, as well as query the database.

MQTT: Allows the cMT to act as a subscriber, publisher, or broker in an MQTT connection.

Ethernet/USB Printer: The cMT3103 supports CUPS (Common Unix Printing System) drivers allowing you to connect to either a local or shared network printer via Ethernet or USB port. Over 890 HP printer drivers are included with EBPro, or enjoy the option of adding your own printer driver by installing the printer PPD file.

User-Defined Startup Screen: Available on most HMI models.

VNC Server: Allows the HMI to be monitored by a remote PC using VNC Viewer.

CAN bus: This model offers support for CAN bus.

File Browser: Displays the contents of an attached USB flash drive on a window screen. Note: This feature is often used with the Recipe Import/Export object which is used to import a new recipe database into the HMI from a flash drive.

Media Player: Allows the cMT3103 to view video (*.MPG) files.

OPC UA Server: The cMT3103 acts as a server. Allows OPC UA clients to retrieve HMI data by subscribing to tags, thereby receiving real-time updates.

PDF Reader: Displays text from a PDF file on an attached USB flash drive.

Picture Viewer: Displays pictures on an USB drive. Supports jpg, bmp, gif, and png formats. Allows you to scroll through the pictures and delete them.

USB Disk Download: Feature enables the programmer to download a new project to the HMI via a USB flash drive.

Video In: Attach a USB or IP camera to display video.

Wi-Fi: is built in Wi-Fi 802.11b/g/n support with strong resistance to interference. Wi-Fi settings can be quickly configured using the web interface.
Your Dynamic Snippet will be displayed here... This message is displayed because youy did not provide both a filter and a template to use.